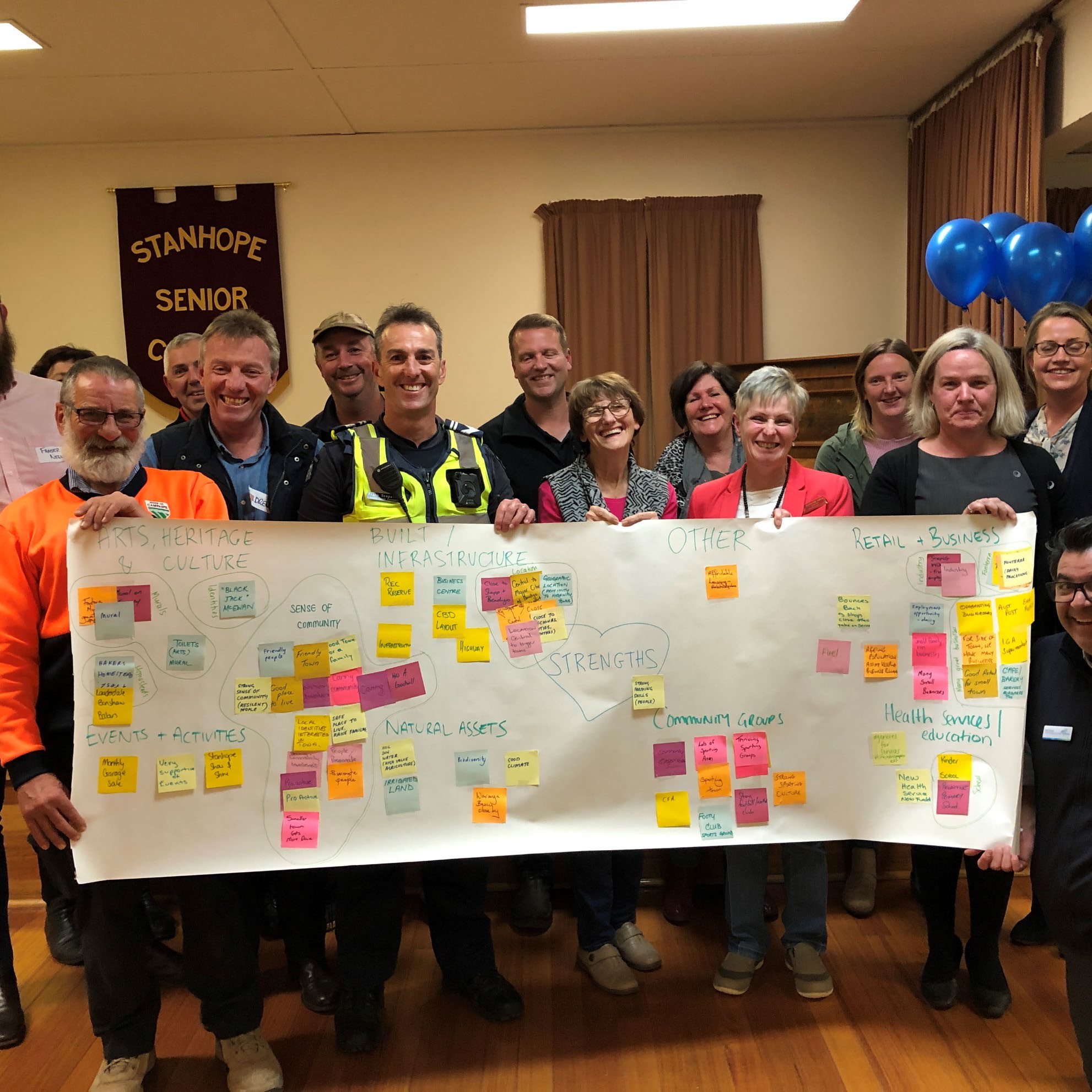 Stanhope Place Plan
Campaspe Shire Council
---
Campaspe Shire Council is a large rural municipality located in northern Victoria, and home to one of the richest and most diverse agriculture and food processing areas in the state. The township of Stanhope is well known for its cheese production and for being the first LEGENDAIRY capital of Australia. Similar to other smaller rural communities in northern Victoria, the Stanhope community has been increasingly impacted by an ageing and declining population, limited access to services, ageing infrastructure, and declining financial viability of local retail. Other contributing factors include the configuration of the township, a growing number of local workforce living outside the community, and availability of residential housing.
Projectura was engaged to lead the facilitation and preparation of a place based plan for the Stanhope community.
Over a period of twelve months, Projectura collaborated with the Stanhope community, council, and other stakeholders to develop a community driven strategy, providing clear recommendations and projects towards a sustainable future for the township of Stanhope. Issues and opportunities were unearthed through literature review, research, and engagement. A vision and guiding principles were established through place based deliberative engagement. The Stanhope Place Plan was prepared with the community and included quick wins and long term actions towards achieving the vision. The Stanhope community were clear that they wanted to retain their rural identity and community connectedness, while enhancing the resilience and liveability of Stanhope.
The Stanhope Place Plan was endorsed by Council in December 2019.
See the Stanhope Place Plan here.
Testimonial below.
---
"Personally want to thank you for the effort, time and passion you have all shown in getting the plan developed."
Sam Campi - Community Engagement Manager, Campaspe Shire Council
How can we help?
The Projectura team is always up for a challenge and is ready to project manage, engage with the community, develop strategic plans or guide you through funding applications. We are your go-to for whenever you are time poor or lack the specialist expertise. We support our clients throughout all the stages of their work with the community.